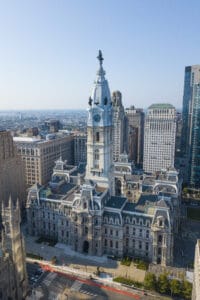 My friend Dale heard rumors that President Trump would have won Pennsylvania if Dominion Voter Machines had not swapped votes for Joe Biden in Philadelphia. I researched the claims and found them to be unfounded:
No, Philadelphia did not use Dominion Voting Systems in 2020.
CLAIM: Video provides data-supported evidence that the election technology firm Dominion Voting Systems committed election fraud by transferring vote ratios between precincts in Philadelphia.

AP'S ASSESSMENT: False. Dominion technology isn't used in Philadelphia's elections, so the company had no part in tabulating votes there. Despite a flurry of false claims about election results in battleground states like Pennsylvania, there's no evidence of widespread fraud or irregularities in the 2020 election.

THE FACTS: A video claiming to be a "smoking gun" exposing Dominion's election fraud in Philadelphia is easily debunked: Pennsylvania's largest city doesn't even use Dominion software in its elections.

That's according to city election commission spokesman Nick Custodio, who confirmed to The Associated Press in an email that Philadelphia's voting system vendor is the Omaha, Nebraska-based Election Systems and Software LLC.

It is also confirmed by Dominion, which explains among a series of fact-checks on its website that it does not "even operate in some of the contested districts, including Philadelphia, Milwaukee, and Dane County, WI."
But how can we trust the city of Philadelphia to tell the truth?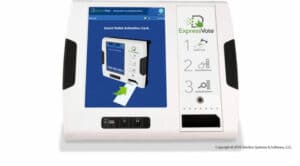 You don't have to trust the city. Philadelphia's purchase of machines from ESS, a competitor to Dominion, was widely publicized at the time.
Summary:
1) Why were new machines purchased?
In 2016, the election results were contested: Four in five Pennsylvania voters use machines that lack an auditable paper trial.
2016 Green Party candidate sued Pennsylvania because she "accused Pennsylvania of violating the constitutional rights of voters because its voting machines were susceptible to hacking and barriers to a recount were pervasive."
2) The replacement of the old machines was widely publicized:
In April of last year, the Department of State told counties that they should pick new voting systems with a voter-verifiable paper record by the end of 2019.

The administration of Gov. Tom Wolf committed to having new machines in place by 2020 after settling a lawsuit brought by 2016 Green Party presidential candidate Jill Stein. The case targeted Pennsylvania, Michigan and Wisconsin for their voting systems' susceptibility to hacking and for barriers to recounts.
Other voters exiting the Temple Brith Achim Synagogue polling location in Upper Merion weren't quite as animated over the switch from push-button machines to scannable paper ballots filled out by hand.

"It's even it's better now that you actually get a confirmation ticket that your vote was cast. We never got that before," said Tykia Turner.
How does an auditable paper trail work?
Aren't you glad that we were able to recount the 2020 election votes using a paper trail?
If this election had been like 2016, and all we would have had to go on was the electronic totals. It would have been much more difficult to verify that the results were accurate.
In Georgia: Paper Ballots Matched Dominion Electronic Results
Hand counts of paper ballots can have an element of human error, but in Georgia, where Dominion was actually used, in an election of 5 million votes, the hand-count matched the electronic tally to within: